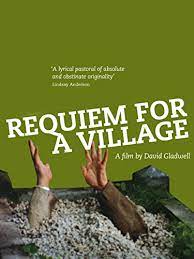 Filmhuis te Vraag
We hebben Jeffrey's cinema uitgenodigd voor onze eerste filmavond. Cultureel activist Jeffrey Babcock heeft een film uitgekozen die hij vindt passen bij de Stemming op Huis te Vraag. Deze avond is in engels.
https://www.parool.nl/nieuws/jeffrey-babcock-film-is-geen-escapisme~b84ddf00/

We invited Jeffrey's cinema to our first movie night. Cultural activist Jeffrey Babcock will introduce a special film in his own way that depicts our place. This evening is in English.
Open from 19:00
Start movie: 19:30


REQUIEM FOR A VILLAGE   (1975)
Directed by David Gladwell
68 minutes
In English with English subtitles
Director Gladwell was a strange one, and in this film he conjured up one of the oddest films to come out in the 70s… it is impossible to classify. It's a rural drama, an ode to memory, a documentary, a mood-piece, and even sequences of it could be seen as a Hammer horror film. It's genre-bending, but in a mind-boggling way. It mixes what isn't allowed to be mixed, creating a film that is both stubborn and surreal, and it "naturally flows and ebbs together with the grace of a cinematic snake".
Requiem for a Village is a poetic meditation on how the modern world's rapid changes has buried the past and its traditions – the skills and knowledge that were at the heart of rural British life and its relationship to the landscape and countryside. In the 1970s the English countryside was hit hard in the name of "progress" and the "demands for cheap food and instant profit." Farmers were forced to tear up forests to satisfy the need to grow food for chain stores like Marks and Spencers and entire green belts were bulldozed for the expansion of the so-called New Towns to provide new housing. Villages were abandoned and the landscape was plundered.
An elegiac exploration of the living past, Gladwell's film clearly engages with the sacrifice of ancient villages to the development and building of new homes and estates and, as one critic points out, "the profound and lingering melancholia for the passing of ways of life, of memories, of entire swathes of social history and, with them, an uninterrupted connection to the past." A totally bizarre film that will take you off guard.