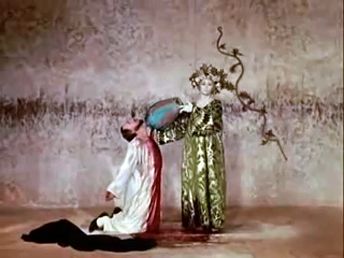 Cinema Eden: THE COLOR OF POMEGRANATES (1968)
Next sunday 27 at 20:30 Cinema Eden
Jeffrey Babcock presents:
THE COLOR OF POMEGRANATES (1968) (Sayat Nova)
Directed by Sergei Parajanov
88 minutes
In Russian with English subtitles
This hallucinatory epic concerns the 18th century Armenian poet Sayat Nova. But Parajanov rejects any straight bio-pic narrative in favor of a montage-stream of religious, political, cultural and sexual imagery… these are allegorical compositions unparalleled in the history of cinema. The world Parajanov creates is somewhere between David Lynch's most extreme excesses and the dazzling cinema of Alejandro Jodorowsky. Take Jodorowsky's The Holy Mountain, steep it in ethnic Armenian folklore and iconography, multiply the sheer beauty times 10, and you come close to this mind-blowing flick. This movie is a trip to the wild side, and it defies categorization: it's part documentary, part biopic and part surrealistic cinematic poem. It is an artistic dream world where everything you have ever known is unhinged.